When in 2009 Czech engineer Mark Koudelka traveled through China he was impressed about the amount of electric motor scooters and bicycles. With the simplest technologies and bulky car-like batteries these two and three wheel vehicles zoomed through the busy streets.
Back home Mark decided to have a closer look into the options to import electric bikes into New Zealand. This was the foundation of NZEBIKES in 2010.
He got in touch with a couple of potential suppliers, but learnt fast that the understanding of the Chinese suppliers what a market in New Zealand would require, was far apart his expectations. Chinese used to produce to lowest cost and therefore also lowest quality. It took Mark a couple of visits of the suppliers to make sure that used parts and the manufacturing quality did meet the standards set to our conditions. Still there were several setbacks, for example a container load full of bikes having had rear wheels laced in the wrong way.
When Mark started to sell the first bikes, back then called TDE03 or TDN08,  he did not rest to improve the bikes with each new order.
End of 2015 sales had grown from a few bikes a year to a few hundreds of bikes a year and Mark decided to get the business ready for the next step. In 2016 he sold the business to Andreas and Sibylle Steppat, based in Tauranga. The business got restructured with new retail outlets and higher investments in new models and productions.
Andreas, with his German electronics engineering background, was working for 13 years as product manager for a multinational barcode reader manufacture. He is traveling frequently to China to overlook production and talks to suppliers to make sure that we get the best possible solutions for our bikes.
In 2018 we have added a new MTB to our range and there are more models planned later this year. All of these new bikes are designed from the scratch and not like other Chinese imports coming out of one big factory with always the same frame and basic setup.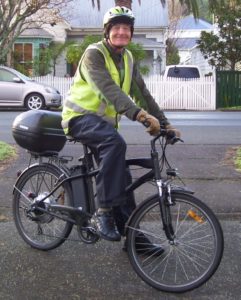 One of the first bikes - still in use!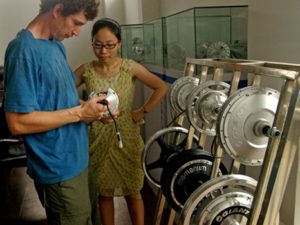 Mark with a supplier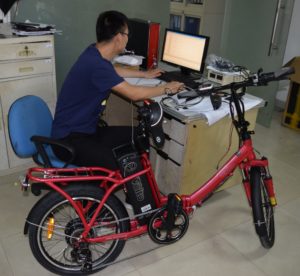 Software tuning